In Their Own Words: Past, Present, and Future as a Dual BA Student
When Quinn Houlahan '23GS enrolled in the Dual BA program in fall 2019, she could never have imagined the events that would transpire with COVID-19 right around the corner. Taking the good with the bad though, she wouldn't have had it any other way.
May 01, 2023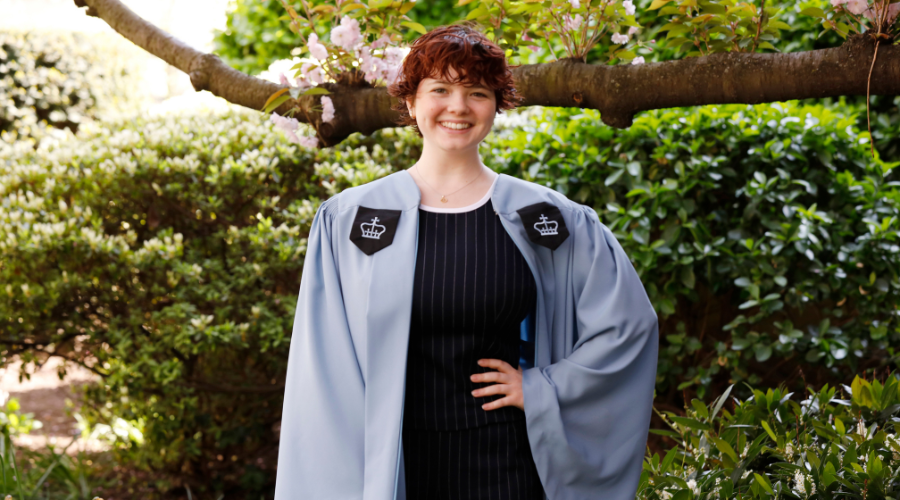 When I initially enrolled in the Dual BA program with Trinity College Dublin, I was only certain of three things. First, I would be packing up my entire life and moving abroad to live in a city where I didn't know anyone. Second, I was thrilled to have the opportunity to continue my language studies while pursuing a degree from an institution of higher education. Third, I still had to graduate from high school.
In retrospect, I feel that I should have been intimidated by the first endeavor as a teenager who'd never lived alone and only traveled abroad twice. My eighteen-year-old self, however, found the thought of moving to Europe to be an absolute dream. There were no expectations and I could be whoever I wanted to be. That's not to say I wasn't sad and a little scared when my parents hopped in an Uber and headed back to the Dublin airport, leaving me standing alone on a quiet street in a completely foreign country. My excitement for all of the possibilities that Ireland had to offer, though, far outweighed any fears I had.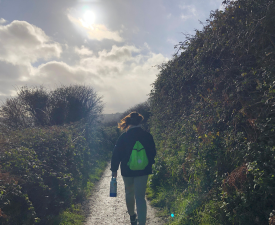 Outside of lectures and tutorials, I spent my first six months at Trinity exploring Ireland. I traveled to every county, hiked along the cliffs, and did my best to visit every single shop between campus and Trinity Halls. As such, I can say without a doubt that if you want a sweet treat, The Hot Donut over the bridge on O'Connell has the best donuts I've ever tasted. Or if you are in the mood to lose track of time, Needful Things and Dervish Books and Holistic Center on Aungier have incredible collections of antique trinkets, crystals, and literature to explore.
I also spent time getting to know my peers, both Dual BA and full-time Trinity students. The opportunity to fully immerse yourself in multiple communities is one of the greatest parts of the Dual BA programs at GS. Some of my best friends are those I met outside of the program, whether that be at Halls, on a night out, or even just studying in the libraries! It's all about trying new things and finding your people.
At Trinity, I found most of my people through the DU Dance Society. When I spoke with GS about my initial experience at Trinity, I wrote that "the dance community is like a second family where even complete strangers can come together and support one another like they've known each other for years." Not to brag, but I was right. The dance community at Trinity became my second home. In fact, I was on a night out with my dance friends in Galway, celebrating our performance at the Intervarsity Dance Competition, when the U.S. closed its borders due to COVID-19 in March of 2020.
The rest of my time at Trinity was a blur. I spent most of 2020 and 2021 at home in New Hampshire, taking classes over Zoom at four in the morning and trying my hardest not to fall asleep at the kitchen table. I did my best to keep up with the work and stay connected with all of my friends who'd dispersed back to their home countries. It was hard having to set aside the exciting life I'd just settled into and replace it with endless hours of online schoolwork and absurdly early mornings. But, in all honesty, the experience made coming to Columbia that much sweeter.
"What the Dual BA program has given me is the chance to explore an incredible variety of opportunities, and with each additional venture I find another thing that I love."
While I was excited to get back to in-person classes, the transition to Columbia was not entirely smooth. I had to rewire my brain to process the U.S. grading system again. For example, the best grade you can get at Trinity is a 70% which equates to an Upper First. So, you can imagine my shock when I received my first assignment back with a big 65% written in red at the top of the page. I remember my French teacher looking at the horror on my face and scrambling to explain how the Irish grading system worked. I had to readjust to the U.S. assessment style with weekly homeworks, midterms, and multiple essays. I even had to figure out how to navigate an American city—especially one as big as New York—since Dublin had been the only city I'd ever lived in. Once I had sorted that out though, I was able to fully enjoy my time at Columbia.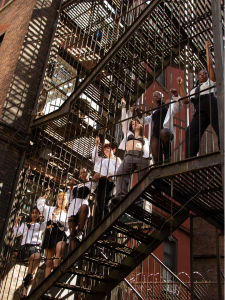 Similar to my time at Trinity, I've made friends and discovered new interests at every turn. I've really found my home in the dance community, though. Every semester, I've made a concerted effort to take at least one dance class as a way to release the stresses of the week. I am currently in my second semester of tap with Dormeshia Sumbry-Edwards and Feldenkrais with Carol Teitelbaum. Outside of classes, I am an Artistic Director of Onyx Hip-Hop Dance Troupe which provides female and nonbinary dancers with an empowering space to engage in the practice of hip hop dance. I am so grateful for the support of my Onyx family throughout my studies and all the opportunities I've had as a member of such an incredible team.
Back in 2019, I'd said, "I plan on seeing where my studies take me during my time at Trinity and hopefully by the time I move to the Columbia campus in New York City, I will know what I want to do." With graduation only a month away, this statement brings a smile to my face. When I started university, I was positive that I would know exactly what I wanted to do with my life after graduation. I'd have it all figured out and be able to hit the ground running. Unsurprisingly, that is not the case. What the Dual BA program has given me, though, is the chance to explore a variety of opportunities and with each additional venture I find another thing that I love: communicating with people from all walks of life, helping others find their joy, discovering unique places, and engaging with new ideas. It's like a puzzle, and every day the picture becomes a little clearer.
Four years ago, I came into this experience with an open mind as to what I would learn and who I would become. Now, at the end of my journey, I can say without a doubt that I made the right choice.