Dual BA Student On Conducting Undergraduate Research Through Social Media
Audrey Brown '23GS shares her experience working on an undergraduate research project that uses social media to illuminate the lives of victims of police brutality.
February 17, 2023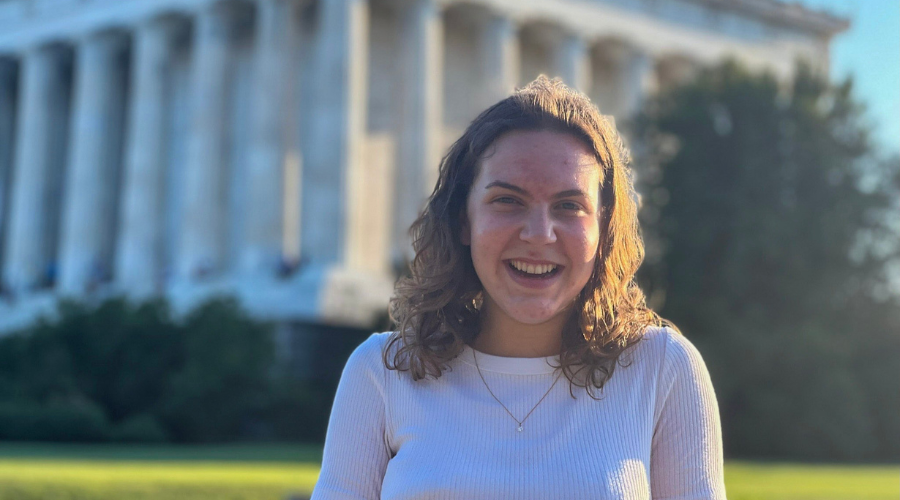 Nearly a dozen GS students took part in last fall's Columbia Undergraduate Research Symposium, presenting their projects to peers, mentors, and distinguished guests. From solo to team endeavors, from STEM to social sciences and humanities, the Symposium showcased the vast array of research opportunities available to Columbia undergraduates. 
We recently spoke with one of the GS symposium participants, Audrey Brown '23GS, who's an English major. She shared her Dual BA story, the process of working on her project, how her research experience has enriched her overall academic trajectory, including supporting her senior thesis work, and what advice she'd offer fellow students looking to dive into research on campus and beyond!
Tell us about your journey to the Dual BA Program! 
The reason I was interested in Ireland is because I did Irish dance competitively for 12 years of my life, so that is a cool connection I have with Ireland culturally and musically. Columbia was always a dream school for me, so the opportunity to have both Ireland and Columbia as part of my academic experience through the Dual BA Program was awesome.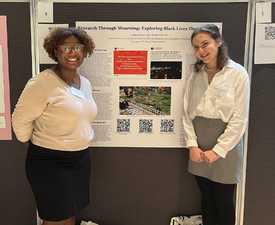 What was the research project you worked on and how did you get involved?
The project was called "The Last Time We Danced: Musical Life Before Mourning," and I worked on it with Denise Taveras '25CC. It was about victims of police violence, but more specifically about their livelihoods rather than their deaths, which is what is often focused on in the media. It was about their lives and the things they enjoyed doing and listening to, music and dancing. A lot of the research was based on social media of them, their friends, and family members, with particular attention to how sound and music was portrayed in both their lives and their deaths. We also made some calls to police stations looking for documentation of events. It was very hands-on and I appreciated that. Looking at people's Facebooks and Instagrams was different than reading a page with words and no face attached to it. It was really moving to be able to see the impact these people had on the world. 
I applied to the project after finding it on the GS Fellowships website. The website has preexisting opportunities, and also the ability to submit your own topic. I went for one that was an existing topic that I was interested in and I was a student researcher in support of Professor Shana Redmond [Department of English and Comparative Literature, and the Center for the Study of Ethnicity & Race (CSER)] over the summer. She was really inspiring and gave us a lot of support. She's ultimately working on a creative non-fiction piece, but while we were helping her in this regard, it was also for our own enrichment, and the project that we presented at the Symposium was completely our own work. It was also great to work on a team with Denise for the project. It was a long list of names we were told to consider, so being able to break them up between us and have each other there as support was nice.
What was it like participating in the Undergraduate Research Symposium?
The Symposium was a great opportunity—the first time I'd ever done anything like that in college. The two of us created a board together, a physical presentation, and then we presented our research. It was also great to see all the students who had proposed interesting topics, to be able to look around at all the other intellectual pursuits people had made throughout the year.
"I'm always interested in the physical evidence that people leave on the earth and the things that they interact with, particularly art; how people engage with the world and express themselves through art in different ways, as consumers and creators."
What advice would you have for other students interested in research experiences?
I would just say go for it! I didn't necessarily expect to get this opportunity, but I applied for it anyway and it ended up being really fulfilling. I'm happy to have had the experience so it can inform future things I do. For example, I'm writing a thesis now and having prior research experience has helped a lot. My thesis currently focuses on Nella Larsen, a pivotal figure in the Harlem Renaissance, and Jean Rhys, who wrote at the same time as Larsen and has similar themes. I'm looking at their female protagonists and the way they used clothing and material possessions to fashion a sense of their femininity. 
There seems to be a parallel between your research project and your thesis, with an interest in cultural elements, like clothes or music, and how they illuminate a person's character, at the center of both. 
Honestly, I hadn't thought of that before, but I agree! As a dancer, I think I'm always interested in the physical evidence that people leave on the earth and the things that they interact with, particularly art; how people engage with the world and express themselves through art in different ways, as consumers and creators. In that sense, the work that I did this summer may have definitely informed my thesis work now, and my thinking in the future.