Dual BA Student Completes Journo's New Horizons Internship Program
Olivia Flaherty-Lovy '23GS is a junior in the Dual BA Program between Trinity College Dublin and Columbia University, studying English. As she begins her first semester at Columbia, she reflects on her time in Ireland, her experiences as a summer intern for Journo's New Horizons Program, and her goals for the future.
November 12, 2021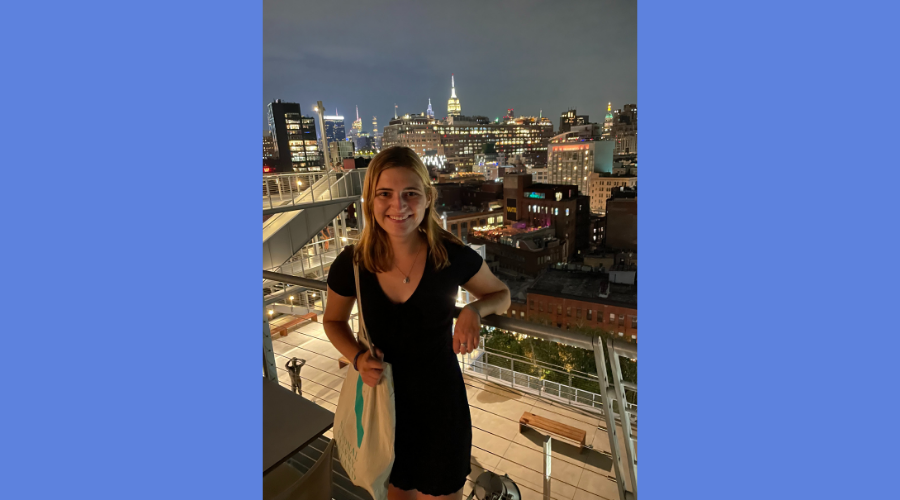 Olivia Flaherty-Lovy '23GS is a junior in the Dual BA Program between Trinity College Dublin and Columbia University, studying English. She initially became involved with journalism as an editorial intern for The NewCanaanite, the local news site in her hometown. She pursued her interest in journalism during her time at Trinity as the features editor for Trinity News, Ireland's oldest student newspaper. This past summer, Flaherty-Lovy participated in the New Horizons Program at Journo, run by the media organization in Turkey in partnership with Columbia Global Centers in Istanbul. Flaherty-Lovy reflects on her time in Ireland, her experiences with Journo, and her goals for the future.
What drew you to Journo's New Horizons program? 
Turkey is a very interesting place to be a journalist right now, and this internship seemed like a really cool opportunity to learn more about what's going on from a local perspective. The intense political climate and lack of public trust in the government have created a real and very scary information crisis, which I learned is also making the transition away from conventional media happen faster. Journo is a bipartisan media organization that focuses on advocating for free speech and enhancing the quality of journalism practices in Turkey, so I was really excited to learn from these people and contribute in any way to this effort. 
What's been your biggest takeaway from your experience with Journo? 
One of the biggest takeaways from my experience with Journo is just how much we take for granted here in the U.S., especially in regards to freedom of speech and press. A couple of the other interns were journalism students from universities in Turkey, who mentioned that they were nervous about going into journalism because they didn't want to be arrested or their families to be attacked because of their work. A lot of the journalists we talked to over the course of the summer had been fired or threatened for political reasons. As problematic as media coverage in the U.S. can be, the level of censorship imposed by the government of Turkey and the consequences for exceeding it just aren't something that most journalists in the U.S. have to worry about in the same way. Getting to work with and learn from these people was really inspiring, and made me reconsider how lucky we are here in the U.S.
How did you know you wanted to focus on journalism in college? What types of journalism and/or topics are you looking to pursue? 
I wanted to get involved in journalism in college as a way to really immerse myself in the culture of a new university, and, for the past two years, a new country. I had never been to Europe before starting school at Trinity, so coming in I definitely felt a little lost, and the idea of writing articles about the Irish government or university system was pretty intimidating. Getting involved with Trinity News ended up being one of the best parts of my college experience, though. It forced me to step out of my comfort zone when covering stories and ask for help from Irish students, some of whom ended up becoming friends. The more I learned about my school and my new city, the more comfortable I felt. By the end of the two years I really felt like I belonged. My experience interning for Journo made me realize that there continues to be a real need for reliable journalism, especially with coverage of human rights issues. I think that this could be a really interesting and impactful field to go into. 
What was the most challenging or interesting piece you worked on at Trinity News? 

One of the most interesting pieces I produced for Trinity News was about a student-led campaign launched in Trinity to protest the twenty-seventh amendment to the Irish constitution. This amendment eliminated the automatic entitlement to Irish citizenship to all those born in Ireland, and the aim of the student group was to put political pressure on the Dáil (the Irish legislature) to extend automatic citizenship to all children born in the state or who have been residents for over three years. I'm really grateful I had the chance to cover this because it's a really important issue, especially in the wake of Brexit, and I'm not sure I would have ever even learned about it otherwise.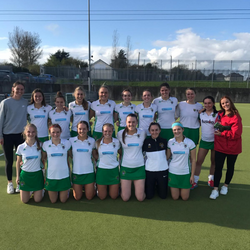 How do you think the Dual BA Program will prepare you to be a journalist? 
I think the Dual BA Program has shown me how rewarding it can be to step out of your comfort zone and embrace new environments and experiences. At Trinity, I played field hockey and worked for Trinity News. Throughout both of these experiences I felt a little lost at first, being one of very few Americans, but by the end of the year I ended up with a really strong sense of community. I also think that the experiences I've had over the past two years have given me a sense of confidence I didn't necessarily have before college. My ancestors emigrated from Ireland to New York following the famine, and the chance to spend two years in the place they left, and then move to the place they started new lives in, has been a special full-circle experience. During my last month at Trinity, when restrictions loosened, my friends and I were able to travel to Kilronan, a tiny village on Inis Mor (an island off the west coast of Ireland) from where my grandfather's family emigrated. I was even able to find some family members' graves, which was a really special way to end my two years in Ireland and begin the transition to New York. Experiences like these have shown me just how rewarding it can be to step out of your comfort zone, which I think will help me in journalism and whatever comes next. 
What are your goals and plans following the program?
That's actually a very good question—I'm still trying to figure out how to combine my interests and skills with things I really care about. I got into journalism because it was a chance to have a say in the stories that were being told in my town and how people were telling them, which allowed me to help highlight some really incredible people and issues that might not have been in the spotlight normally. I think that's the most rewarding type of storytelling, so I just hope I can do that in whichever field I end up in.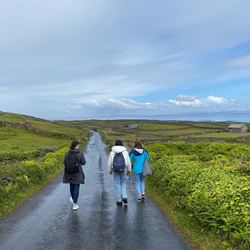 This is also your first semester at Columbia—what are some things you're looking forward to in the second half of the Dual BA Program and in NYC in general?
I'm hoping to get involved with The Columbia Spectator, and I'm also really looking forward to getting to explore the rest of the city. I'm also just really excited to keep meeting people in the Columbia community. I've been here for less than a month and have already met so many cool people, and am really excited to get to know them better. 
Any advice for aspiring Dual BA Program students?
I would say to really enjoy the place you're in and the people you're with. It's easy to get caught up in the excitement and spend a lot of time looking forward to Columbia, or looking back and really missing the days at Trinity. Both are valid and I think probably inevitable, but there are so many cool people and things going on in both Dublin and New York, so just enjoy whatever's happening around you.